Quick Value 11.25.19
Comcast ($CMCSA)
Market Performance
Week of 11/25/2019           
S&P 500 | 3110 -0.3%
10-Year | 1.77% -5bps
Dow Jones | 27876 -0.5%
Gold | 1463 -0.3%
Russell 2000 | 1589 -0.4%
Oil | 58 unch
Russell Microcap | 573 unch
VIX | 12 unch
*Returns based on week-over-week performance
Market Stats
It seems like there is a disconnect between small cap and large performance lately. The S&P 500 is up some 24% YTD while the S&P 600 (the 600 smallest companies) is only 15%... Doesn't seem like much of a difference but the smaller companies have been flat-to-down since February while the S&P 500 has continued to grind higher all year long...

Maybe this (from Yardeni) has something to do with it?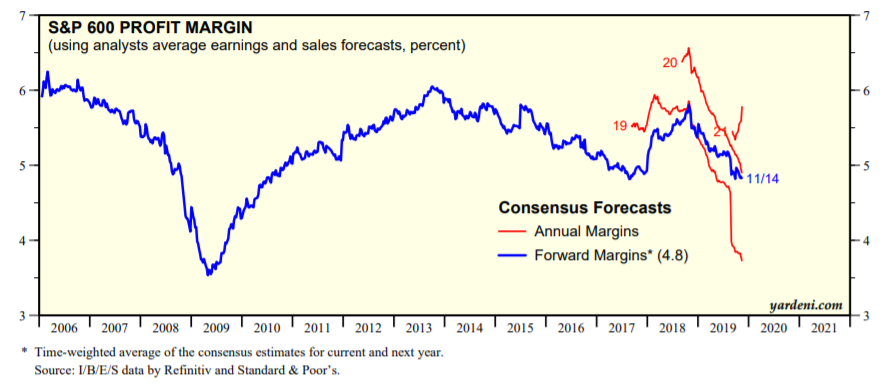 Quick Value
Comcast (CMCSA)

This will be brief...

I like the cable industry. Before being acquired by Charter Communications, Time Warner Cable was steadily growing earnings at a double digit rate, buying back stock, and keeping leverage at a manageable level. It was boring but it worked.

Comcast seems to be following the same blueprint... cash flow has grown 2.5x over the past 10 years (just shy of 11% growth per year) and at $45, the stock currently trades at ~8x cash flow. This is right in-line with the median historical P/CF multiple. Yep, this plain vanilla $200bn cable company is cranking out $25bn in cash with $100bn in debt on the balance sheet. 

They just made a very large bet to acquire British TV broadcaster Sky. There has been some skepticism around the deal but things seem to be playing out OK for now. The cord-cutting phenomenon is still going on and just about everybody and their mother plan to launch a streaming offering. Internet will always be in vogue though...

Some investors may prefer Disney or Charter. Coincidentally, all 3 of these companies have taken on huge sums of debt to make large acquisitions of late.

It's a simple story. Historically average cash flow multiple, management committed to paying down borrowings from a recent acquisition, grow the dividend, buy back some stock, etc. etc.