Discover more from Value Don't Lie
Quick Value Weekly
Over 1,000 subscribers
Quick Value 2.10.20
Merck & Co ($MRK)
Market Performance
[Index | % change WoW ]
S&P 500 | 3328 +3.2%
Dow Jones | 29103 +3%
Russell 2000 | 1657 +2.7%
Russell Microcap | 605 +2%
10-Year | 1.58% +7bps
Gold | 1574 -1.1%
Oil | 50 -3.8%
VIX | 15 -21%
Market Stats
Stocks are back on the upswing! Major indices up over 2% with even larger gains in the larger indexes.
Despite all the talk about trade, coronavirus, excessive valuations, and lack of earnings growth… It appears the Fed is continuing to juice the markets with increasing money supply and rate cuts…
M2 Money Supply Growth

Fed Funds Rate

And don't forget about the $60bn per month in treasury bond purchases through 2Q20!
At least from a monetary perspective, all signs point to accommodative for a while longer.
(FYI, some of my recent posts may appear to make me bullish on the overall markets. I'm actually pretty cautious at the moment but want to remind myself and others that levels can always get further from rational than you think!)
Quick Value
Merck & Co ($MRK)
Another major pharma transaction happening! Bristol-Myers with the large acquisition of Celgene, Pfizer selling its consumer business and spinning its legacy drugs with Mylan, Glaxo spinning off its consumer business, and now Merck announcing it will spin-off its legacy businesses.
At $85 per share this is a $215bn market cap. Annually, the company generates nearly $50bn in revenue.
It's no wonder they want to spin-off their slower growth (or declining businesses): Keytruda, a drug used for , generated $11bn in 2019 sales and grew 58% from the previous year! That one drug is nearly 25% of total revenue and yet the entire company only saw growth of 11% in 2019.

The spin-off will obviously create some risks in the concentration of revenue in a single drug (Keytruda).
Merck is a pretty nice company all things considered:
Low debt levels of $22bn

Operating cash flow >$12bn per year (and growing)

A nice little dividend of $2.44 per share (~2.9%)

Other capital returns — buybacks of nearly $10bn over the past 12 months

Inexpensive at ~15x forward PE and 18x cash flow

The chance to own 2 securities with different gameplans post-spin
2020 guidance indicates slower growth in sales and earnings. So the timing of the spin-off makes sense. Looks like a similar setup to what Pfizer was/is trying to do with its Upjohn business.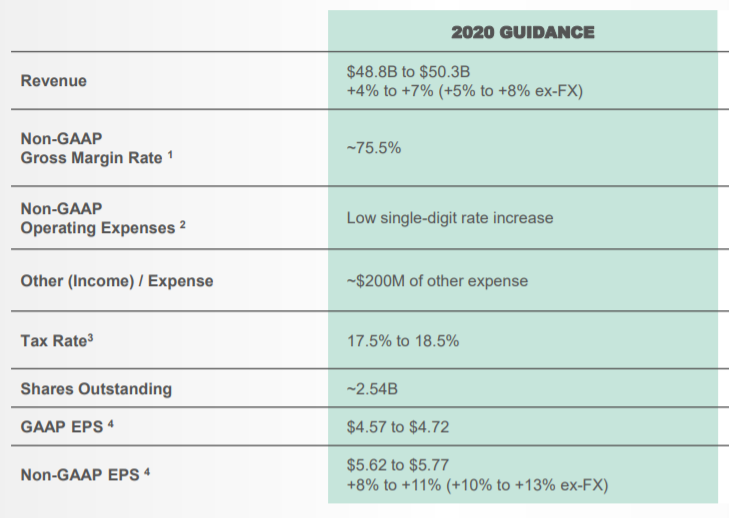 Overall, looks like an interesting setup… Check out the recent investor presentation here for more details: