Discover more from Value Don't Lie
Quick Value Weekly
Over 1,000 subscribers
Quick Value 3.23.20
Home Depot ($HD)
Market Performance
[Index | % change WoW ]
S&P 500 | 2305 -15%
Dow Jones | 19174 -17%
Russell 2000 | 1014 -16%
Russell Microcap | 372 -15%
10-Year | 0.87% -12bps
Gold | 1495 -2%
Oil | 20 -39%
VIX | 66 +14%
It's amazing to look at these on a week-over-week basis… just to recap, here's the past few weeks all lined up together: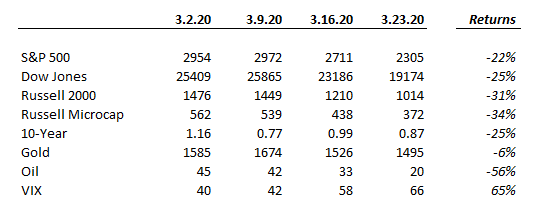 Market Stats
According to the WSJ, here's the damage done so far from peak to trough…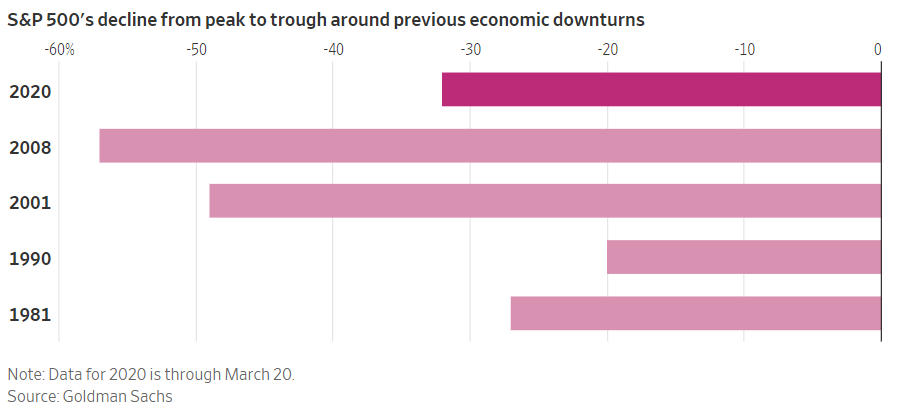 More room to fall?
Most economists seem to think so…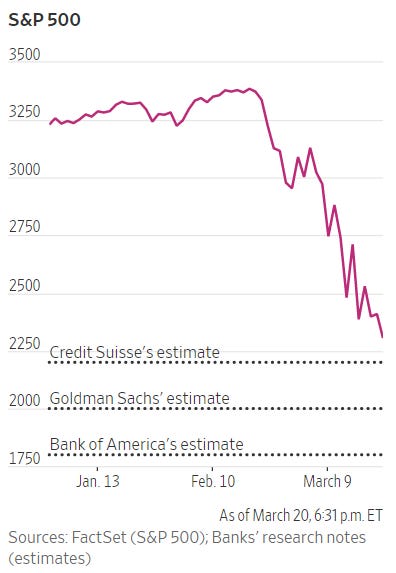 Over the weekend, I ran a quick screen for stocks with a market cap greater than $10bn (excluding energy stocks) and a dividend yield over 4%. There were 141 results. The S&P 500 still has a dividend yield of about 2.5%.
Of US exchange-traded stocks with a market cap greater than $50m there are over 500 stocks with a dividend yield greater than 10%!
Ex-energy, there are 260 stocks with a dividend yield greater than 15%!
It's likely there are many dividend cuts yet to come but also likely there are some bargains in those groups…
Quick Value
Home Depot ($HD)
If you're looking for a high quality business that will be around for a long time to come, then Home Depot needs to be one of them…
The home improvement market should have plenty of wind in its sails (long term) and the market is still quite large with Home Depot having about 15% market share.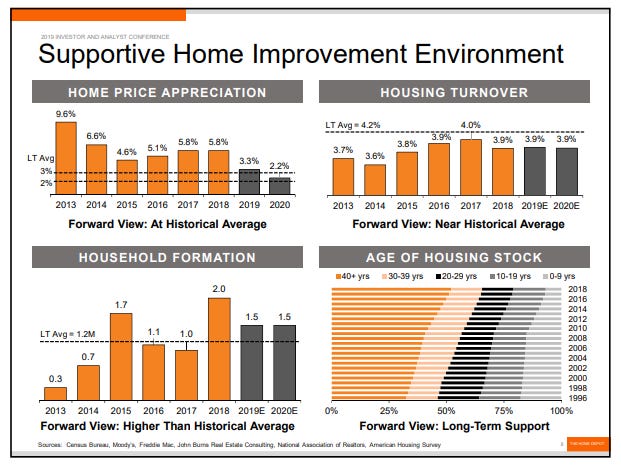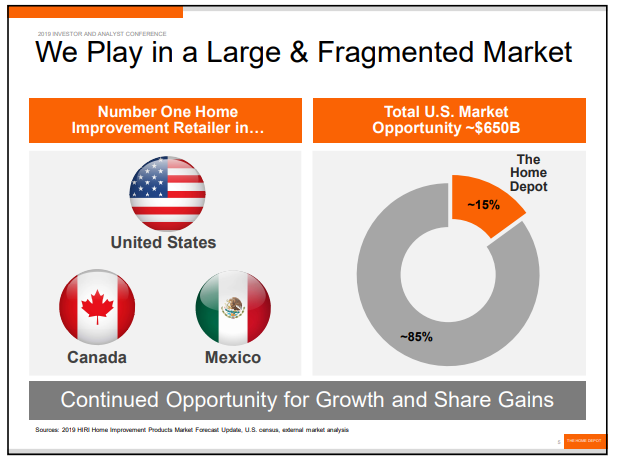 At $150 per share and 1.1bn shares outstanding you have a $165bn company. Net debt is about $30bn so call it a $195bn enterprise value. 2019 earnings were $10.25 per share for a 14.6x PE.
For 3 years running, HD has topped $10bn in annual free cash flow (10x P/FCF). Of that amount, $6.6bn goes to pay your 4% dividend and the remainder (plus a little extra) has gone to buying back stock. Over the past 10 years they've reduced the share count from 1.7bn to 1.1bn — not bad! On top of all that, revenue has been growing nicely at 2-8% each of the past 4 years.
What about the current market environment?
Well from 2007-2010 (peak to trough) — revenue dropped from $79bn to $66bn (-16%) and operating cash flow dropped from $7.6bn to $5.1bn (-32%). Anecdotally, I've seen more activity on house projects in the past week than I can remember.
This is a business that should weather the storm and potentially thrive.
An undemanding valuation at less than 15x earnings and a 4% dividend. It might be getting near an attractive entry point for long-term owners.