Discover more from Value Don't Lie
Quick Value Weekly
Over 1,000 subscribers
Quick Value 5.25.20
NewMarket Corp ($NEU)
Market Performance
[Index | % change WoW ]
S&P 500 | 2955 +3.2%
Dow Jones | 24465 +3.3%
Russell 2000 | 1356 +7.9%
Russell Microcap | 506 +7.7%
10-Year | 0.66% +1bps
Gold | 1735 -1%
Oil | 33 +10%
VIX | 28 -13%
Strong performance last week especially in smaller stocks (Russell) as indices are firmly moving higher after bouncing up and down the past few weeks…
Quick reminder that stocks are still down for the year (despite the constant attention around rallying prices):
Russell 2000 (small stocks) down 19% YTD

Russell Micro (even smaller stocks) down 19% YTD

Russell 1000 (large stocks) down 8.5% YTD
Market Stats
Last week gave us an update on the housing market — permits give us a read on the number of Government-issued permits for building and starts give us a read on homes that have actually broken ground…
Both down significantly from the previous month and year and pretty much running at 2015 levels (still profitable levels for homebuilders).

Also important to note that homeownership is still on the rise… A trend worth monitoring…

Sales of existing homes also fell steeply last month but it's hard to know if this was mainly due to the difficulties in showings and closings as a result of lockdowns…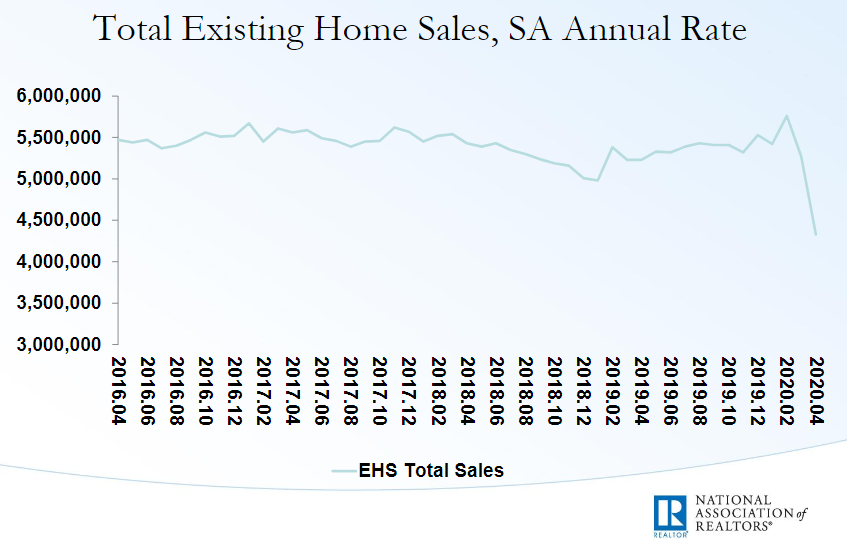 Purchasing Managers Index (PMI) — both services and manufacturing provide a read on business activity — a reading of less than 50 is contracting and over 50 is expanding.
first is services…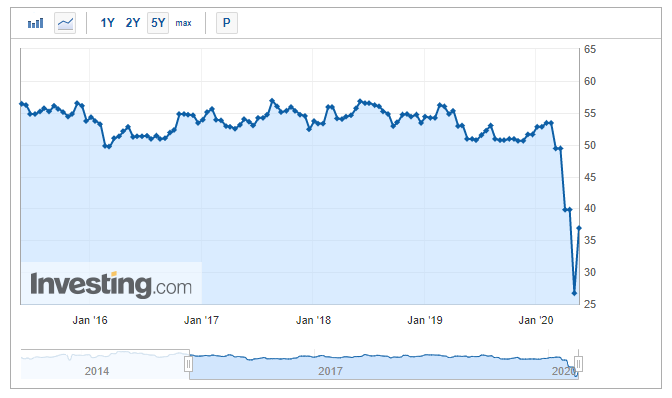 …and manufacturing…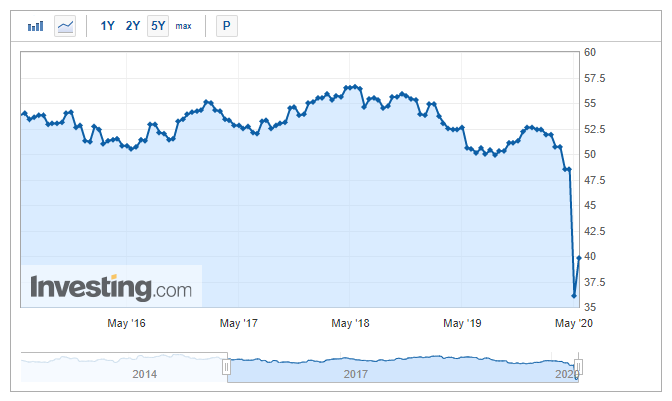 Both saw a decent (i.e. +10%) rebound from previous month levels… Although they still indicate contraction with a reading below 50, they are trending higher which means business activity may have already seen its lowest levels…
Quick Value
NewMarket Corp ($NEU)
Yet again, a stock that has gone nowhere for 5 years!

But perhaps the market has it right here?
Fundamentals have also gone nowhere for 5 years… sales, operating profit, and net income all essentially flat from 2015-2019 while total debt has ratcheted up by $150m… And this period includes substantial corporate tax reductions!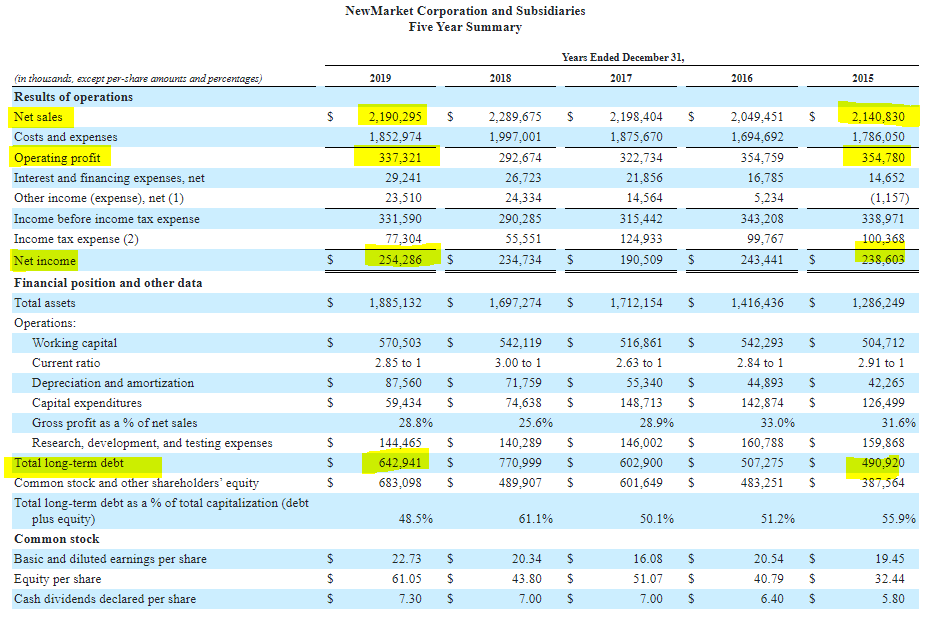 NewMarket is a specialty chemical producer making additives for fuel, lubricants, drivelines, engines, etc. — the business is similar to Lubrizol which was acquired by Berkshire Hathaway in 2011 (many feel Buffett got the business for a song).
At $435 per share and 11m shares outstanding = $4.8bn market cap. Net debt is $560m so call it a $5.4bn EV. Trailing EBITDA was $475m so 11x EV/EBITDA and trailing net income of $277m so 17x PE.
So NewMarket is interesting in part because it has been an underperforming stock with so-so financial results… Also, the balance sheet is in good shape with net debt at $560m or 1.7x EBIT… Cash flow has gone toward a very modest dividend and share buybacks…
Valuation isn't dirt cheap but not expensive either… And many consider 20% EBITDA margins a good litmus test for a quality specialty chemical business — NewMarket passes that test at ~21%, albeit with some variability.
Lastly, Q1 results saw solid growth in sales and earnings but it remains unclear how severely the business will be impacted by COVID-19..
Could be interesting…