Discover more from Value Don't Lie
Quick Value Weekly
Over 1,000 subscribers
Quick Value 6.8.20 (WBA)
Walgreens Boots Alliance ($WBA)
Market Performance
[Index | % change WoW ]
S&P 500 | 3194 +8%
Dow Jones | 27111 +11%
Russell 2000 | 1507 +11%
Russell Microcap | 557 +10%
10-Year | 0.9% +24bps
Gold | 1688 -3%
Oil | 39 +18%
VIX | 25 -11%
Back-to-back-to-back weeks of big gains across the board. Especially smaller stocks (Russell Micro and 2000 indices) — up ~20% since my 5.18.20 post…
Market Stats
The big news last week came on Friday with a surprisingly good jobs report…
If you haven't already seen the headlines, the summary here is that May saw +2.5m in jobs added (vs. an estimate -7.5m jobs) which is a stark rebound from the 20m or so jobs lost in April…

Intuitively makes a bit of sense as many small businesses laid off workers in March/April only to rehire them late April/May as they received PPP funding from the stimulus programs.
Unemployment claims have been leveling off for a few weeks now as well…

The one "risk" to the upside I want to highlight is that consumers may be doing much better than headlines indicate. Personal income levels saw a big benefit from unemployment compensation and $1200 stimulus checks. And the expanded unemployment benefits run through July 31. Many of these individuals are earning more than they did while employed. Personal savings rates have increased with all the added income so consumers have certainly been spending less (for now).
What comes after all the stimulus subsides? Who knows?
But I'm not sure I agree with sentiment such as this one from a recent Barron's article:
El-Erian contrasts the current economic shock with the 2008-09 financial crisis, saying this one could take longer to reach critical mass and be more difficult to resolve. Struggling consumers will find it difficult to spend, while companies will be too worried about their balance sheets to invest much right away. "Even if you don't assume that we're going to have higher risk aversion and some sense of Great Depression frugality, you can see why demand is going to be challenged," he says.
The next personal income and savings report releases on June 26, it could be interesting.
Some quick summary charts…
Quick Value
Walgreens Boots Alliance ($WBA)
The healthcare landscape has been changing significantly over the past few years. Major players across different industries (pharmacy, health insurance, benefits management, distribution, etc.) have been combining to form completely new businesses.
Here are some of today's players:
Walgreens — retail pharmacy and drug distribution

CVS — retail pharmacy, benefits management (Caremark), and now health insurance (Aetna)

Cigna — health insurance and benefits management (Express Scripts)

UnitedHealth, Anthem, Humana — health insurance

McKesson, Cardinal Health, Amerisource — drug distribution
Drug distributors remain pure-play businesses as do some of the health insurers. Walgreens and Rite Aid could be considered pure play pharmacy/retail businesses as well.
Additional industry M&A is likely to take place over the next few years… Aetna attempted to buy Humana a few years back before anti-trust issues busted that deal and led to the combination of CVS and Aetna… Walgreens already owns 27% of Amerisource shares and there have been long-running rumors of a combination and another fresh round of speculation on Amerisource having interest in Walgreens' distribution segment.
Here are some financial stats / multiples for the above mentioned businesses:

Investors seem to like the insurers, dislike the retailers and distributors, and unclear on the 2 hybrid businesses (CVS and Cigna) as they are the most levered in the group…
I've already dug into Cigna (CI) in a past post. An interesting stock given they are nearing their desired leverage ratio and have no dividend commitment leaving capital allocation options wide open. It's also pretty cheap at 10x earnings and cash flow with an improving balance sheet.
Back to Walgreens…
Despite sales increasing by $30bn+ over the past 5 years, earnings haven't changed much. Maybe there's less enthusiasm for what might be just a plain vanilla retailer? Hard to see these corner drug stores disappearing overnight…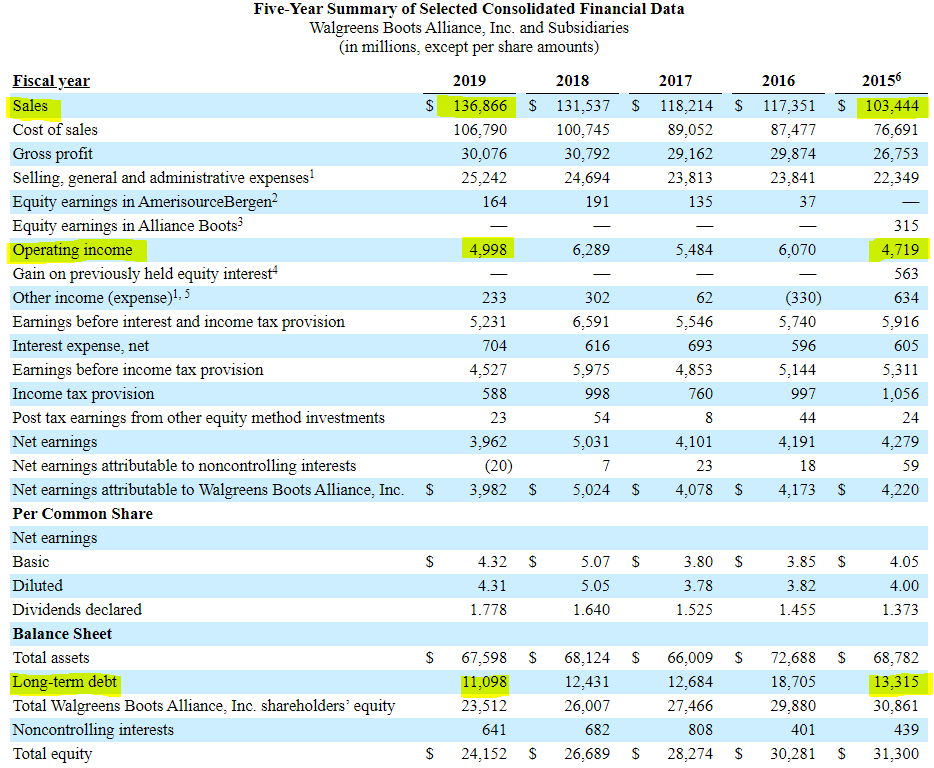 This is a business generating some $5-7bn in cash flow each year… About $1.5-2bn of that goes to capex an another $1.6bn goes to the dividend leaving some $2-4bn leftover for buybacks or other capital allocation…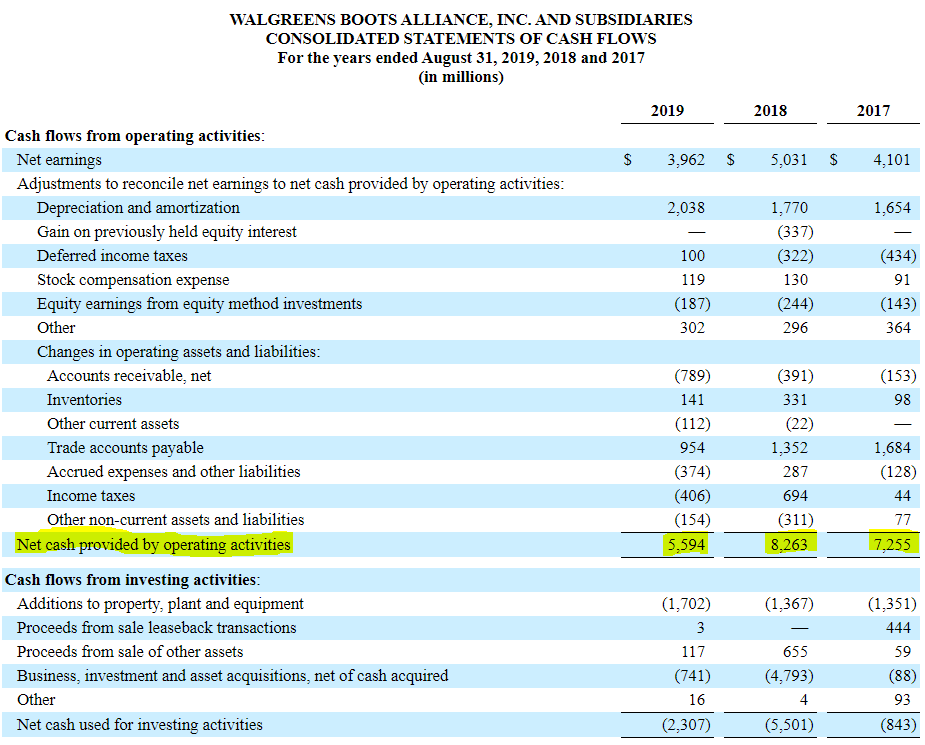 The balance sheet is also far from full. There is $16bn in net debt on that $5-7bn in cash flow but this is still somewhat misleading since Walgreens has a 27% stake in AmerisourceBergen (ABC) marked at ~$6-7bn on their balance sheet. This investment generates little in the way of net income or cash flow to Walgreens as well.
Who knows when or if Walgreens and Amerisource will find a solution to resolve that equity stake. On top of that, a rumor surfaced recently indicating that Amerisource is now interested in buying Walgreens' wholesale business for ~$6bn. Seems like a low multiple based on past performance but would essentially eliminate all debt if Walgreens sold the wholesale business + equity stake.

So what gives?
It seems as though Walgreens could go one of a few ways:
They muddle along and see a mainly "retail" multiple which may or may not catch wind depending on how stores perform from here

They go the route of the hybrid healthcare model through acquisition and move into distribution (via Amerisource) or insurance (via Humana)

They decide to go all-in on retail pharmacy stores and divest the already small-ish distribution business while using those proceeds to buy back a bunch of stock.
CEO Stefano Pessina already owns a lot of stock (some 16% of shares outstanding) — he's definitely got skin in the game but may also make the M&A piece more challenging given his potential unwillingness to relinquish equity/leadership…
Time will tell which path they go down…
(Disclosure: I own shares of WBA)