Discover more from Value Don't Lie
Quick Value Weekly
Over 1,000 subscribers
Quick Value 8.17.20 (UMBF)
UMB Financial (UMBF)
Market Performance
[Index | % change WoW ]
S&P 500 | 3373 +1%
Dow Jones | 27931 +2%
Russell 2000 | 1577 +1%
Russell Microcap | 601 +1%
10-Year | 0.71% +14bps
Gold | 1954 -4%
Oil | 42 unch
VIX | 22 unch
Market Stats
The retail sales data for July are in! Total retail sales grew 1.2% from June to July and 2.7% from July 2019 to July 2020… Solidly back in growth territory!
Only a few categories are still experiencing large YoY declines — gas stations, clothing stores, department stores, and food service.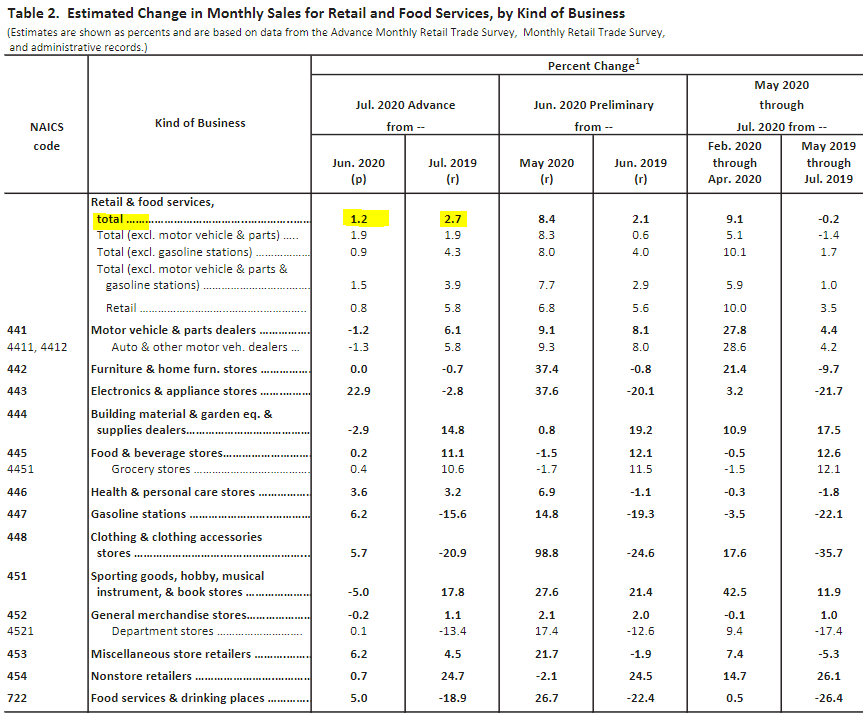 We're still seeing sequential improvements in unemployment…

One last thing to start keeping an eye on…
As markets have stabilized / rallied, money supply growth is starting to level out / decline…

Quick Value
UMB Financial (UMBF)
Yet another financial stock!
This is a neat little business with 4 business segments — personal banking, commercial banking, institutional banking, and healthcare services.
Revenue and earnings have grown at a decent clip over the years and were near $5 per share in 2019.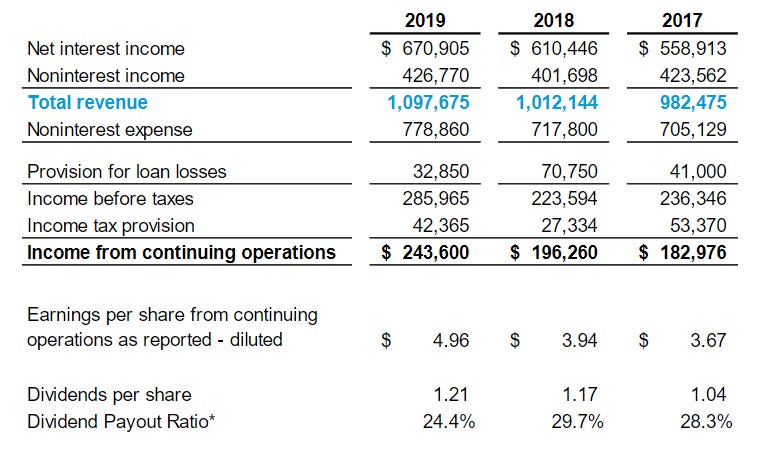 This is a bank with a few other businesses tucked inside… They offer the traditional consumer and commercial banking services such as deposit accounts, mortgages, and commercial loans. But, they also have a large HSA business and a fund services business. Nearly 40% of revenue comes from noninterest income sources.
HSA — UMB is the 4th largest player in the niche health savings account market. These are low-cost deposits that help keep total interest expenses low for UMB.

Fund Services — Mutual fund administration, record keeping, accounting, etc… A much smaller version of a BNY Mellon or Northern Trust.
Q2 results weren't bad for the bank either as loan loss provisions eased up quite a bit from $88m in Q1 to $21.5m in Q2… Earnings before provisions grew nearly 18% and book value grew 14%.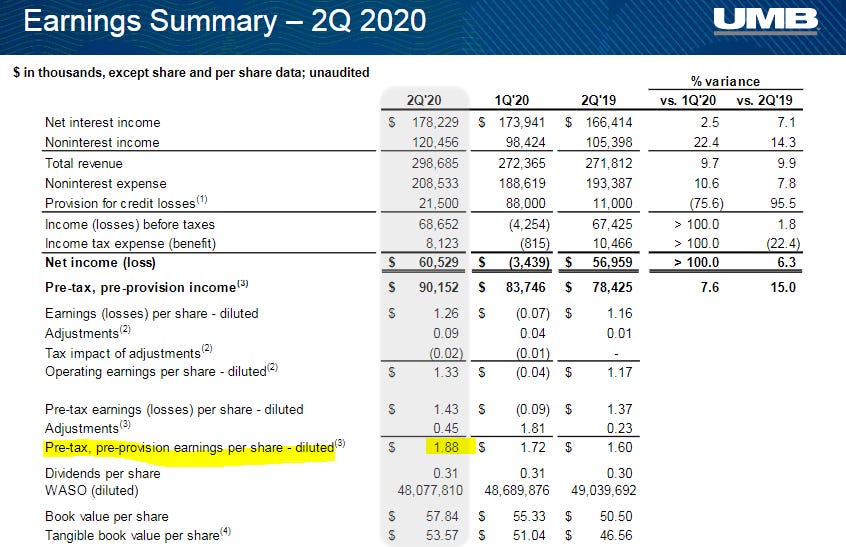 Deposit costs are low…

And loan yields are high…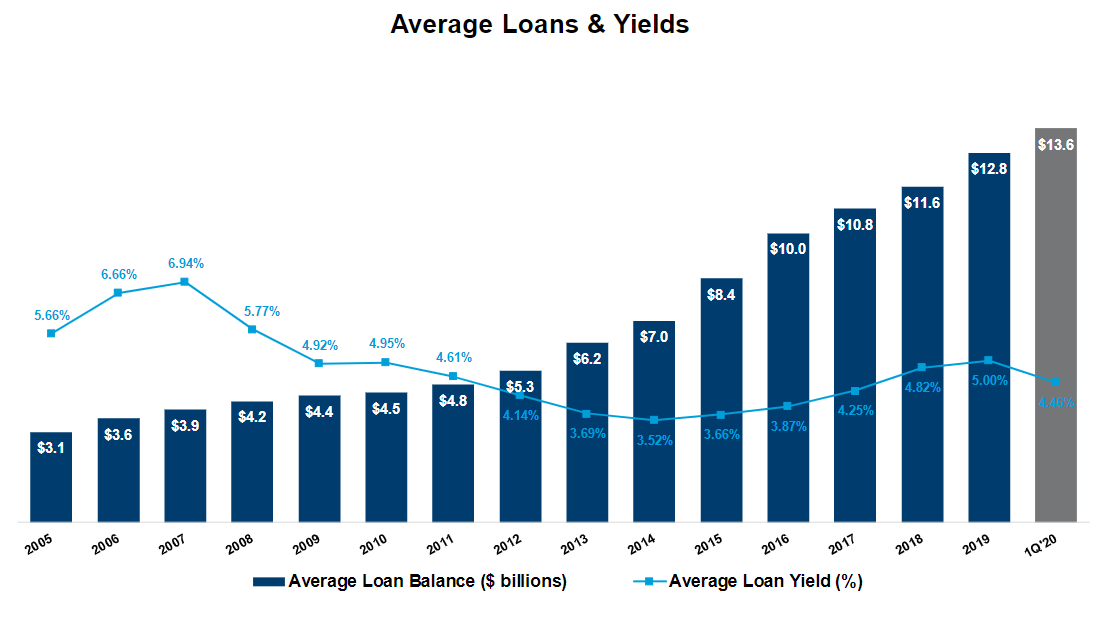 There are 48m shares
x $55 stock price
= $2.6bn market cap
They've done a decent job of growing book value and shares look cheap relative to historic valuations… The stock currently trades just shy of book value and 14.4x trailing earnings (inclusive of loan loss provisions).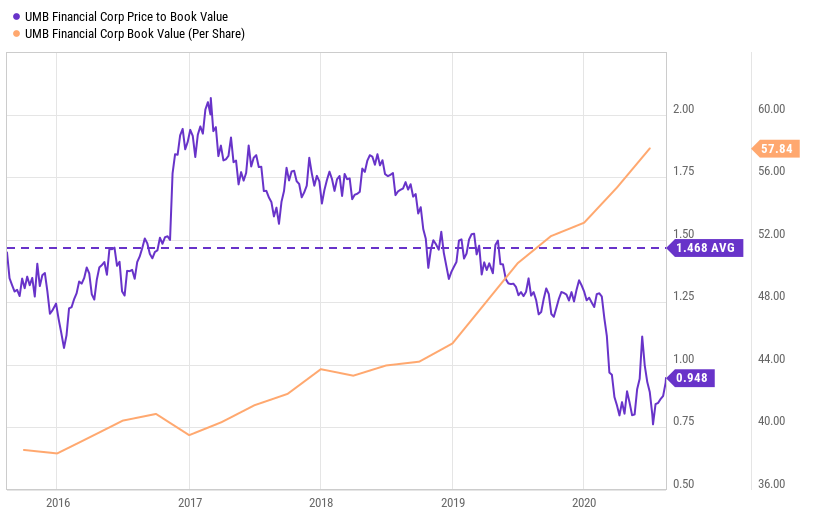 Not only is it a cheap bank with growing book value but there are a few disparate businesses that could ultimately be split off or kept together in their current growing state…